Kodak ULTRAMAX 400 speed, 24 exposure color film 3-pack — FREE GROUND SHIPPING* — as low as $4.03 each roll in quantity
Quantity discounts
1

2

3

4

5

10

20

50

100

$

17.18

$

31.36

$

45.04

$

56.64

$

69.40

$

132.80

$

253.60

$

614.00

$

1,208.00
Item: #65000
Out of Stock
As low as $4.03 each roll.  Kodak ULTRAMAX 400 speed, 24 exposure color film 3-pack.  The ideal film for great pictures in all conditions. KODAK ULTRA MAX 400 film is the simple choice for any picture-taking situation – indoor, outdoor, flash, and action.  It is
worry-free, easy-to-use
high speed film. ULTRA MAX
400 Film gives you the flexibility you need to take
consistently better pictures in more picture taking
situations—better low-light picture quality with fewer
underexposures, better results with zoom lenses, greater
flash range, better "stop-action" photos, and reduced
impact of camera shake.
Even when enlarged, ULTRA MAX 400 Film delivers excellent sharpness and fine grain for crisp, clear pictures.  Optimized color precision technology provides consistently bright, vibrant colors.
Enjoy FREE SHIPPING within the United States* and capture great memories with Kodak ULTRAMAX. 24 exposures, 400 speed 35mm Color Film.
Out of stock
SKU:

65000
Categories: Sale Cameras, Wholesale
Tags: 24 exposures, 3 pack, 35mm film, 400 speed film, Birthday, Camera, celebration, event, occasion, party, personalize, sale, special, wedding
$9.99 per camera. Receive high resolution images uploaded to WeTransfer.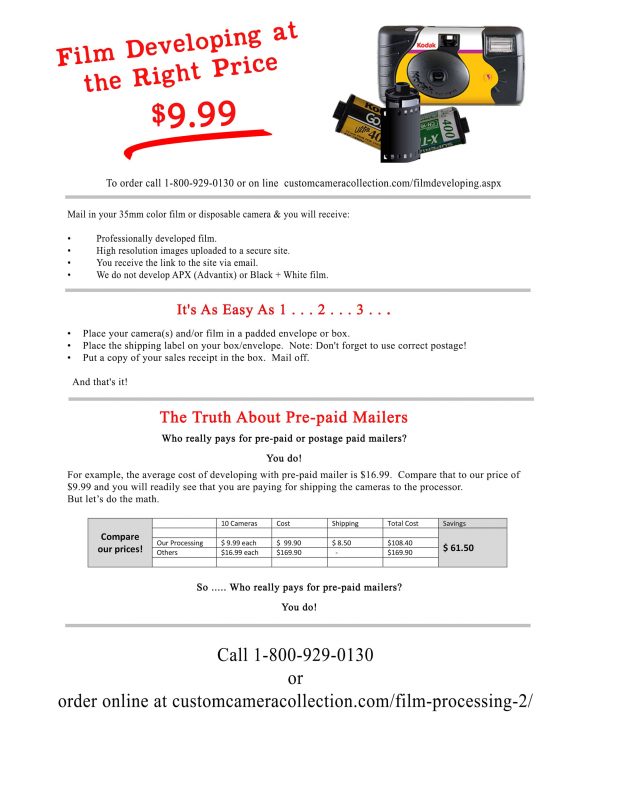 Related products
Rated 5.00 out of 5
$

18.99
(Save: 31.6%)
Item: #SP50346