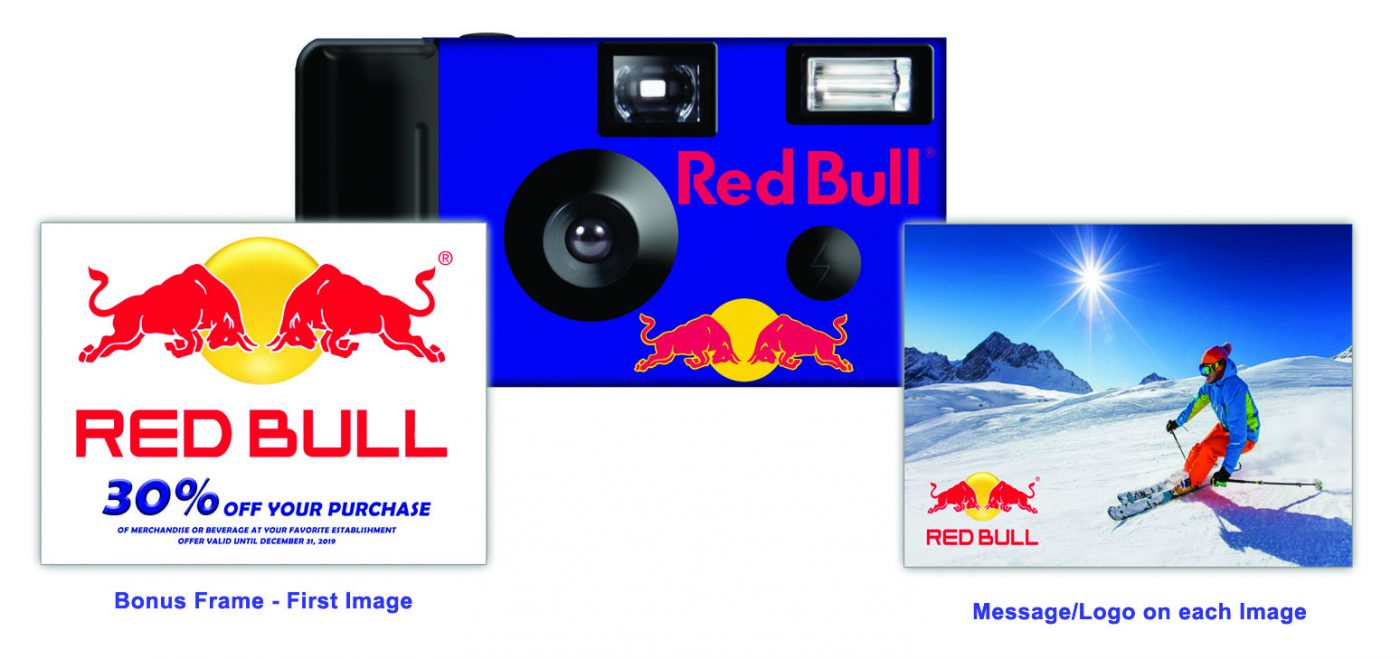 If a picture is worth a thousand words, then how much is your logo on the picture worth?
Pictures never break, they are never thrown away, and they never go out of style.
With your logo on every photograph your message will continue to propagate …
FOREVER !!!
Get the most out of your marketing dollars with custom message cameras.
Custom disposable cameras have the highest perceived promotional giveaway value because everyone loves taking pictures, and when they use your custom cameras they're taking your logo and message to eye level . . . 24 times.
 CUSTOM MESSAGE CAMERA PRICING

Quantity Price Breaks

Price Each

25
$23.19
50
$22.19
125
$21.19
250
 $20.19
500
$19.79
1,000
$19.44
2,500
$18.94
5,000+
$17.99
Included: (1) Camera with Custom Logo Cover, (2) Logo/message on each image, (3) Bonus picture on each roll, (4) Film processing and image upload.
Camera Information: High-quality, high-performance disposable cameras with 24 exposures, FujiColor high speed 35mm film and built-in flash. Artwork is printed on 60# high gloss pressure-sensitive stock for the highest quality and most professional appearance.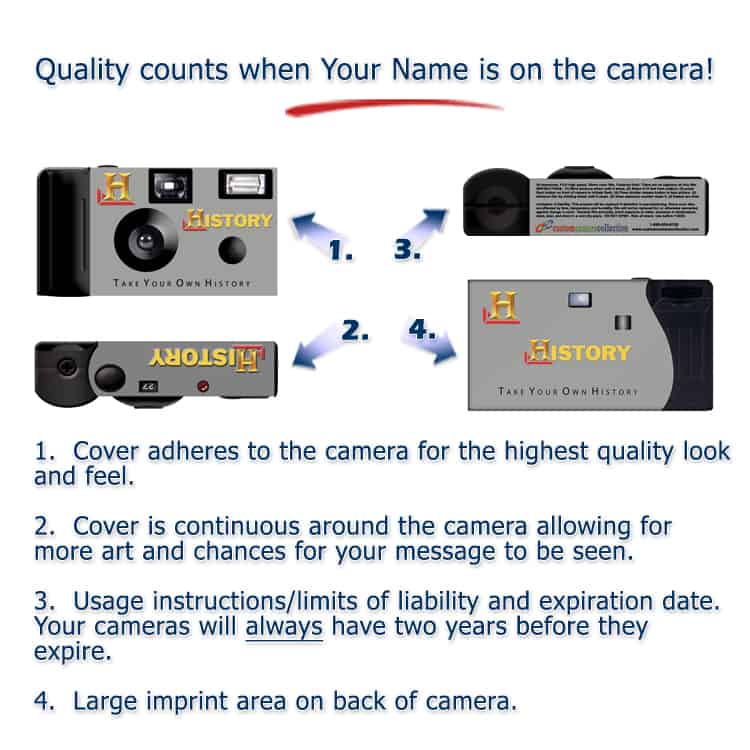 Art Information: As the leader in the industry, our artists are very skilled in designing custom cameras, adding the right creative flair to any promotion.
To begin design place your order and send us the logo/picture/text you would like on the camera, bonus photo and on images. Pictures and logos should be 300 dpi. Files under 2MB can be emailed by clicking here. Files over 2MB, please call for a Dropbox link.
Free Art Design: When you design your camera on our template, or order 125 cameras or more. If you would like to design your own camera, please call or Email us to request the current camera template.
Image Logo & Bonus Picture Setup: $75.
Pre-production Sample: You can order a pre-production sample of the camera artwork approval for $29.99 (includes overnight shipping within the continental U.S.).
Payment: Prepayment prior to production.
Lead Time: Allow two weeks (after artwork approval & receipt of payment) for production. For quantities 2,000 and over, please contact us regarding production time.
Packaging: Clear polybags, machine sealed.
Rush Orders: Camera Emergency? We can help! We can meet almost any deadline and never miss a delivery date. Please call for more information and to get your order started.
To PLACE ORDER and/or RECEIVE CAMERA TEMPLATE: Please call 1-800-929-0130 or email [email protected]. We do answer the telephone during regular office hours (8:30a to 5:00p M-F, EST) and we answer emails as soon as we see them.