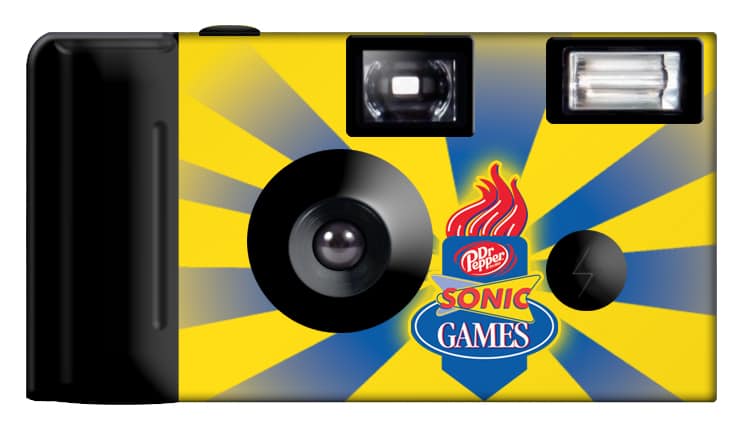 Custom disposable cameras have the highest perceived promotional giveaway value because everyone loves taking pictures, and when they use your custom cameras they're taking your logo and message to eye level . . . 24 times.
 CUSTOM LOGO CAMERA PRICING

Quantity

Price Each

10-49
$17.34
50-124
$16.34
125-249
 $15.54
250-499
 $14.99
500-999
$13.69
1,000-2,499
$13.44
2,500 – 4,999
$13.19
5,000+
$12.19
To our valued returning clients: Our company has fallen within the 15% tariff imposed on goods imported from China. Since we do import the plastic parts and circuit boards to assemble our cameras, the 15% tariff represents a 35 cent increase in the price of each camera.  Also, in 2021 shipping costs of these component parts have risen by 500%.  In addition, in 2022 and now in 2023, we are experiencing rising prices — with the highest being in film.  We cannot compromise the quality of our cameras so we have no choice but to pay the higher pricing from Kodak.  Therefore, because of the tariff and increased shipping costs, and rising prices, we have had to raise our prices.
Camera Information:  High-quality, high-performance disposable cameras with 27 exposures, KODAK 400 speed 35mm color film and built-in flash.  Artwork is printed on heavyweight glossy stock, for the highest quality and most professional appearance.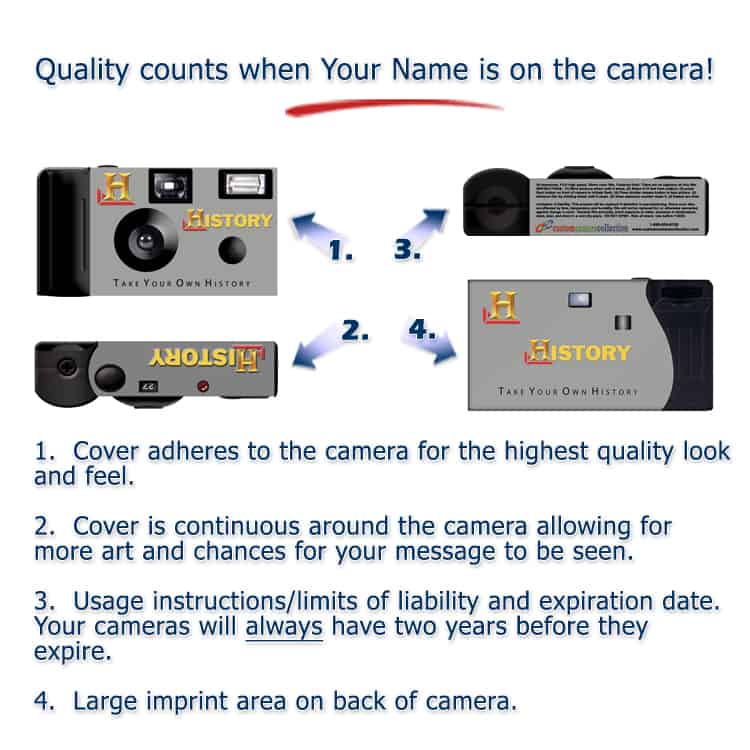 Art Information:  As the leader in the industry, our artists are very skilled in designing custom cameras, adding the right creative flair to any promotion.
To begin design place your order and send us the logo/picture/text you would like on the camera.  Pictures and logos should be 300 dpi.  Files under 2MB can be emailed by clicking here.  Files over 2MB, please call and we'll send you a Dropbox link to upload your file.  We DO NOT accept files through any file service except Dropbox.  To PLACE ORDER and/or RECEIVE CAMERA TEMPLATE:  Please call 1-800-929-0130 or email us.   We do answer the telephone during regular office hours (8:30a to 5:00p M-F, EST) and we answer emails as soon as we see them
Free Art Design:  When you design your camera on our template, or order 125 cameras or more.  If you would like to design your own camera, please call or email us to request the current camera template.
Pre-production Sample:  You can order a pre-production sample after artwork approval for $29.99 (includes FedEx 2-day Express Shipping within the continental U.S.).
Lead Time:  Allow two weeks (after artwork approval & receipt of payment) for production on orders under 5,000 cameras.  For quantities over 5,000, please contact us about production time.
Rush Orders:  Camera Emergency?  We can help! We can meet almost any deadline and never miss a delivery date.  Please call for more information and to get your order started.
Payment:  Prepayment prior to production.
International:  Payment for international orders is accomplished by wire transfer.  Please be aware that any duties, taxes or other customs charges are the responsibility of the recipient.